Notice:  This site will be down from June 5-11 for updating.  Please email aquinaslearninginfo@gmail.com, if you need any of the materials while the course site is down.  
We're sorry for the inconvenience.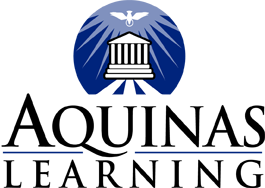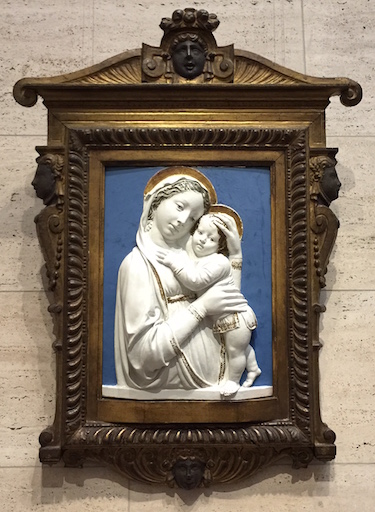 Madonna and Child, by Luca Della Robbia
"May is the month of Mary; devotion to the Blessed Mother throughout May originated in Rome in the 18th century to counter immorality and infidelity among students at a college there. It has spread through most of the Latin Church now. Because the North American holiday of Mother's Day falls in May, Catholics take this time to recall and try to emulate Mary's role as mother. Therefore devotion to Mary in the month of May focuses both on Mary as a role model for Christian mothers, and Mary's ever lasting chastity and purity, and her fidelity to God's will."
From:http://www.aquinasandmore.com/catholic-articles/monthly-dedications-of-the-church-year/article/184
A Comprehensive History of the Devotion to Our Lady
"Devotion to Our Blessed Lady in its ultimate analysis must be regarded as a practical application of the doctrine of the Communion of Saints."
From: http://www.ewtn.com/library/mary/15459a.htm
 ===============================================  
Commendations and Recommendations
If you have any recommendations (suggestions) for the program thus far or if you have any commendations (positive feedback, experiences) you would like to share with us, please send an email to aquinaslearninginfo@gmail.com.  We will be posting your positive feedback on a new testimonials page we plan to add to the website.  Thank you so much for sharing your positive remarks and experiences with us.  
ST THOMAS AQUINAS, Pray for us!
We offer up all our endeavors to the Most High, the source and summit of all that is True, Good, and Beautiful - God!  We pray that we may SEE what He is showing us, HEAR what He is telling us, LEARN about Him (and ourselves in the process), and SERVE Him by bringing His light to others.


Our Curriculum:
"Have no anxiety about anything, but in everything by prayer and supplication with thanksgiving let your requests be made known to God.  And the peace of God, which passes all understanding, will keep your hearts and your minds in Christ Jesus.  Finally, brethren, whatever is true, whatever is honorable, whatever is just, whatever is pure, whatever is lovely, whatever is gracious, if there is any excellence, if there is anything worthy of praise, think about these things. What you have learned and received and heard and seen in me, do; and the God of peace will be with you." - St. Paul: Philippians 4:6-9
Prayer of St. Thomas
Grant me, O Lord my God, a mind to know you, a heart to seek you, wisdom to find you, conduct pleasing to you, faithful perseverance in waiting for you, and a hope of finally embracing you. Amen.
Behold the Lamb of God! "Through the study of books one seeks God; by meditation one finds him." - Padre Pio 
Copyright Regulations
Please respect copyright rules by not making copies for distribution or sending files electronically without prior permission.  These files and audio songs are the result of MANY hours of hard work by several authors, singers, developers, and thinkers.  Please respect their intellectual property and ownership.   The course site is also copyrighted and cannot be shared with people that are not registered in the program.  If someone needs a login, your director must request a valid login.  Do not give them yours.  I thank you for your cooperation on this matter.
Have a great year in the marinade! (The True, Good, and Beautiful marinade)  May God bless your centers, your classrooms, and your homes.
Skip courses
Courses